The Text2reach Omnichannel Platform allows you to receive, process, and respond to incoming WhatsApp, Facebook Messenger and WEB chat messages in one place. The platform can be used simultaneously by an unlimited number of agents working with all the communication channels.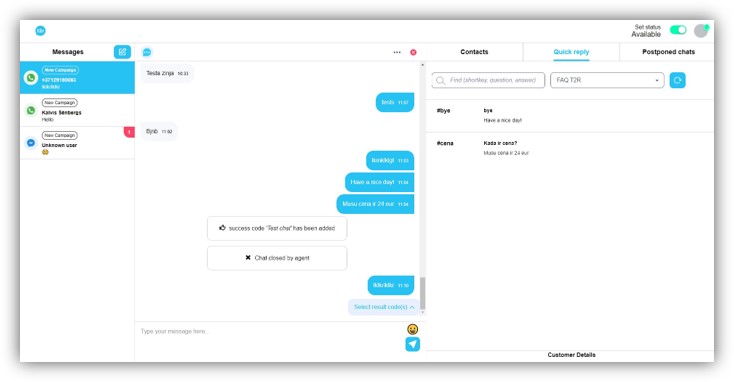 A single platform for all communication channels
WEB chat
WhatsApp Business account
Facebook Messenger
WhatsApp shop
Who is this solution for?
For companies with a large number of customers and lively communication
Opportunity to organise and optimise communication
Divide communication by departments – sales, support, consulting
Use the WhatsApp environment with an unlimited number of agents simultaneously
Communication platform
Be always available for your customers
Use it to process customer requests quicker
Reduce costs by using a single tool, analyse your agents' work and communication efficiency
Increase customer satisfaction
👏 Turn visitors into happy customers
Showing interest and having a meaningful conversation with your customers is the fastest way to achieve higher customer satisfaction.
💵 Increase your conversion rate
With Omnichannel communication platform, we can make sure that your website visits from customers, actually turn into conversions.
👍 Be always available for everyone
You can easily handle incoming requests from WhatsApp, Facebook and Web site in one place.
🕙 24/7/365
Be available on your website, Facebook Messenger and WhatsApp.
💻 Analyse agents' work
Overview your agents' communication initiation and progression reports
Our team is ready to answer any question!
Choose a suitable time and date for a remote conversation with a Text2reach consultant. When you book a time slot for the conversation, you'll receive a Google calendar invitation with a link for your call in your e-mail. See you soon 😉