Sell your products or services via WhatsApp!
Your product catalogue on a WhatsApp Business account
Sell your products and services through a WhatsApp Business account
Chat with the customer at the time of purchase
Integrated payments
Import product catalogue from a Facebook shop and major e-commerce platforms
To use the service you need WhatsApp Business account
Create a WhatsApp shop
Contact a Text2reach Team
We will help you create a WhatsApp business account
Add products to the catalogue
Import a product catalogue from an existing e-shop or Facebook catalogue
As a part of the service, Text2reach will register your company's mobile, landline, three-digit, four-digit, or 800 number as a WhatsApp Business number.
👦🏼 👧🏼 2 billion WhatsApp users
With over 100 billion messages being sent a day, WhatsApp is the most popular social media platform worldwide.
📱 Mobile first
Make the whole customer journey as easy as possible for the ever-growing group of mobile users.
👍🏼 Convenience
Enhance the customer experience by being quick, convenient and user-friendly with WhatsApp.
📈 Another sales channel
You don't have to stop trading goods or services on existing platforms, you can add WhatsApp as an additional channel.
📚 Product catalogue import
Product  catalogues import from Shopify, Magneto, WooCommerce, BigCommerce, CommerceHub and other major platforms.
🕙 A WhatsApp shop in 60 minutes
If you already have an internet shop, you can import products to WhatsApp in an hour.
Catalog + shopping cart + payment = order
Show your potential customers the catalog of your new collection through WhatsApp. The open rate of WhatsApp is 99%, compared with 22% for email. So if you want to get your customers' attention, WhatsApp is the way!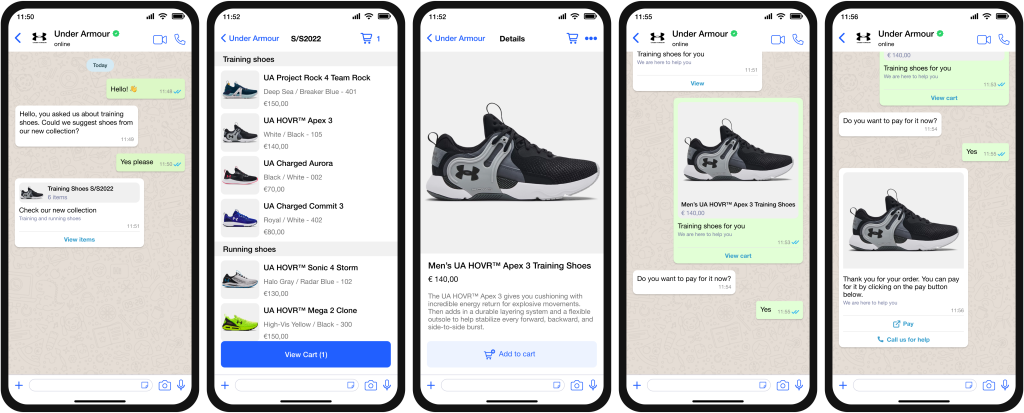 Our team is ready to answer any question!
Choose a suitable time and date for a remote conversation with a Text2reach consultant. When you book a time slot for the conversation, you'll receive a Google calendar invitation with a link for your call in your e-mail. See you soon 😉